News

Valerio Pandolfi's photography are now on sale at Maui Ocean Center (Maui, Hawaii), the largest tropical Aquarium in the Western Emisphere.
THE OCEAN WITHIN – EXPLORING THE DEEP TO FIND YOURSELF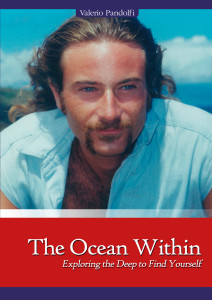 This is the diary of an adventurous journey in one of the most pristine and isolated corners of the Pacific: the Revillagigedo Archipelago, kingdom of sharks, manta rays, dolphins and whales.
Twenty strangers with the same deep passion for the big blue, get together on a boat, seeking their dreams.
Twenty different ways to love the Ocean, that keeps living inside them.
In that kind of expedition, success isn't guaranteed and you must overcome many obstacles along the way.
Sometimes in the journey of life things don't go according to the plans.
You have to play the game, take risks and never relent your trust of the Ocean.
NOTE, THIS IS AN ENGLISH TRANSLATION OF MY BOOK WRITTEN IN ITALIAN.
on sale now :
 
THE OCEAN WITHIN ON NATIONAL TV CHANNEL RAI1 – PROGRAM LINEA BLU